A History of Abigail
By Jim Sperry, youngest son of Portia Howe Sperry
Abigail was a product of the Great Depression. She was inspired by the genius, inventiveness, hard work, and dedication of a plain housewife whose husband's piano factory became bankrupt and closed.
Portia Howe Sperry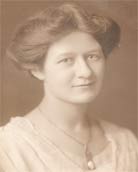 Portia Howe Sperry was a college educated, one time teacher, who became a civic leader in Fort Wayne, Indiana in the late 1920s. Her husband's unemployment sparked her determination to rise above their disastrous situation by moving her family to the rural, backwoods and primitive Brown County, Indiana. In this elemental environment, her family survived at a bare bones level.
Searching for ways to improve their living, Portia had various part-time jobs, one of which led to her developing the gift shop that she named, Brown County Folks. Under this name she developed the Abigail doll that became an immediate success and that was sold widely in this country.
Abigail Doll

Abigail was different in many respects. She was invented through trial and error over a period of a year. The making of the body was a particular challenge in both the shape she worked out, a youngish figure, and the body stuffing material, woolen batting, that she found to be washable.

The hinged arms and legs that moved freely were a breakthrough invention for Portia. Her being in that backwoods area made the old fashioned print dresses, the sunbonnet, and pantaloons that Abigail wore a natural. All parts of the doll were made by piecework from various local women in their own homes for, originally, mere pennies per dress or part, a surprisingly successful operation.

The making of the face was an almost impossible problem for her to solve. In desperation, she called on a local artist, an internationally known color etcher, L.O. Griffith, who simply drew the face from which Portia had a plate made for printing. All the faces were then hand painted in oils by the etcher's wife. The result was Abigail's enchanting face.

Packaging the doll was also a Portia inspiration. Searching for a different idea, her inventiveness came to the fore again as she noted the shape and size of the common round Quaker Oatmeal box. Placing two of these end to end, covering them with period wallpaper and adding a carrying handle made a unique carrier that she also, with inspiration, called a portmanteau.

With a move showing her great courage, she called on the President of Quaker Oats asking if she could buy oatmeal boxes. The President replied that they didn't sell boxes, to which she begged; couldn't he do it just once to help her get started? His response was to call in his foreman who said that, yes, he could reset his knives and make a double box. The President ordered that it be done and had the boxes shipped to Portia totally free. With this final help, Abigail was successfully launched.

Portia Sperry Holding Abigail
Abigail, The Book
Portia Sperry's business astuteness showed as she gave entertaining lectures throughout Indiana about Brown County Folks and Abigail. She realized that a book about Abigail's story, as she was imagining it, would team up with the doll as an attractive package. The book, with colorful illustrations by Zabeth Selover was a year in the making. The combination was an immediate success and sold well. Very few books, especially children's books, have ever been in print for 70 years as the story of Abigail has been.
Abigail, the book, is currently published by the Indiana Historical Society.
Portia Howe Sperry's work and life were honored in 2001 by the Historical Society's exhibit on women entrepreneurs. She and her husband are the subject of a bronze plaque displayed on the site of her shop and the birthplace of the doll in downtown Nashville, Indiana.
Abigail, now trademarked, has been owned by the extended family since 1932.
The most significant development to date is the acceptance of Portia Sperry's two dolls, Abigail and Nancy Hanks into the SMITHSONIAN. This lengthy process began in 2008 and finally became a reality in 2015. These two dolls are now in a permanent exhibit that opened in July, 2015.